Thanks to all of you who entered. I had 13 different people who entered, so I'm choosing this time to just draw one winner. That winner is Valerie at Stuck in Books.com
.
Valerie chose the copy of The Replacement by Brenna Yovanoff as her prize.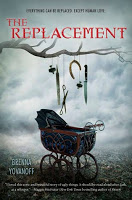 Congratulations Valerie! I hope you enjoy your prize.