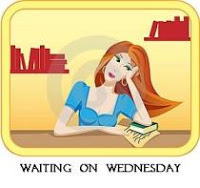 Waiting on Wednesday is sponsored by Jill @
Breaking the Spine
.
I haven't done this in awhile because I felt I'd pretty much listed all the books I'd really been waiting on. But, au contraire, mon frere. It's just that a lot of the books I'm not waiting on will not be published for another year because I read the first one in the series before they were published, so they've just been published and now I'm waiting. In fact, this book I'm choosing today will not come out till 2012. And at the moment I haven't found a cover for it, it is supposed to be revealed sometime this month.
Fever is the 2nd in the Chemical Garden trilogy by Lauren DeStefano. It is the sequel to Wither, one of the latest dystopian teen novels I enjoyed reading this past year. Wither is curre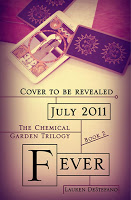 ntly on my Staff recommendation table at the bookstore where I work. In this story, because humans have figured out how to live long lives, now their children die young, girls at the age of 20, boys at the age of 25. So young girls are kidnapped to be sold to rich men to have their babies. It is even possible for these rich men to basically have harems of wives. Other young girls are sold to research lab so they can try to figure out how to solve this problem.
Rhine is our main character, and she had been kidnapped away from her twin brother and forced to marry Linden to have his babies. I won't spoil it for anyone who hasn't read the first one yet. But needless to say we left off at a cliffhanger and I want to know where it goes next!