So my goal is to get to 100 followers by the end of July. In fact I think tomorrow I'm going to post a contest to try to help get it sooner rather than later. But more on that tomorrow!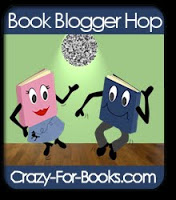 So let's start with Book Blogger Hop which is sponsored over at Crazy For Books.
This week's question is:
"What keeps you reading beyond the first few pages of a book, and what makes you want to stop reading a book and put it back on the shelf?"
Well, that's a hard one. Once I pick up a book, I have trouble putting it down. Not always because it is good, but because I hate quitting. But, if a story doesn't pull me in right away, grab my attention, or maybe I don't relate in any way to any of the characters even though it is a type of book that I feel that I should, those are reasons to put it down. I currently have so many books to read, that I have begun letting myself give up on books if they just don't draw me in quick enough. I just know there are so many books I want to read, that it is not worth my time to fight through a book just because I started it. I don't have a set amount of pages/chapters, although maybe I should start, maybe 100 pages?

And next is Follow Friday, hosted over at Parajunkee.com. This week's question is:
"Ack! Your favorite book/movie character (example Hermione Granger played by that Emma chick) just walked into the room? Who is it and what would be your first reaction? You get extra points if you include visual stimulation."
Okay, trying to decide who to pick here. I don't quite know who would be my favorite book/movie character. Parajunkee picked Jasper Hale, and my first thought was one of the Twilight boys. But then I wondered if I could pick someone who was just either a book or a movie character, but maybe not both? Or maybe someone who is both, but I've never read the book, only seen the movie? I know, maybe I'm overthinking it too much? So to make it easier, I'll go with a Twilight guy, now I do crush on both Edward and Jacob, but I thought I'd go with one of the characters that makes me laugh in the book and in the movie, and I still adore them, and they are hot. Emmett Cullen/Kellan Lutz. I just love his character in the book, he makes me laugh with his comments to Bella and Edward in the last book, and love his character in the movies too. And some extra points for visual stimulation? I liked how Parajunkee had a video of Jasper, so here is my favorite line from Eclipse, and I can't wait till the arm wrestling scene, probably in Breaking Dawn part 2!