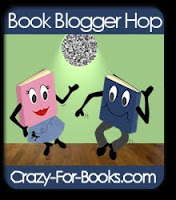 In the spirit of Twitter Follow Friday, the Book Blogger Hop is a place sponsored by Crazy for Books for book bloggers and readers to connect and share our love of the written word. This week's question is:
"
When did you realize reading was your passion and a truly important part of your life?"
That is a hard question, because I've been reading as long as I can remember. My dad started me reading at the age of 3 with a book that was used to help adults who had trouble reading. I remember my mom buying me like 10 or more of the Nancy Drew books to read when I was like in 1st or 2nd grade and getting me hooked on those. I remember getting my first checking account when I was in middle school (this was before debit cards :-)) just so I could order from book orders at school with my own money. I've always loved to read. I almost always had a book with me when I was a kid, even visiting family, I remember aunts saying that they wished my cousins would read like I did. In college my reading slacked off a bit, too busy with school reading, and no money to buy new books really either. But honestly, I don't think I realized it was my "passion" until I started teaching. And even then, not until I was trying to decide what to get my master's degree in, which ended up being library science. And now that it is my passion, I'm trying to so hard to get a school library job where I can really share this with more than just the kids I see every day as a classroom teacher. But no one seems to want to give me a chance, well, no one in my own district that is. I've had other offers, but one I had to turn down because my district wouldn't let me out of my contract, and the other because of such a huge paycut.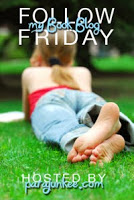 And also it is Follow Friday time! This is sponsored over at parajunkie.com and is a blog hop that expands your following by a joint effort between bloggers. This week's question is:
"In light of the summer solstice, also known as midsummer…let's talk about fairies. What is your favorite fairy tale or story that revolves around the fae?"
This is a hard question for me. I actually haven't read to many of the Fae YA books that are out there. For some reason they just don't grab my interest when I pull them off the shelf to read the covers. I would have to say my current fairy tale is The 12 Dancing Princesses. And I guess the Sookie Stackhouse series by Charlaine Harris includes fairies, and I do love that series. Oh yeah, the Mortal Instruments series by Cassandra Clare also has fairies, and I like that series as well.
Welcome to all new followers who have stopped by as part of either of these two hops, I will read all comments and I follow back anyone who follows me!