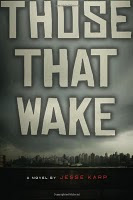 This is another egalley I got from Netgalley.com. It took me awhile to get into it. Which is kind of weird, because I had picked it as one of the books I would read for the
Debut Author Challenge
that I'm participating in. And really, let me say, I do really, really, really love the premise for this story, and I love the reason why all of it is happening as you get into the story and find out the whole reason for what's going on.
The basic plot is that a terror attack even worse than 9/11 has happened and the people of New York have just had their spirits crushed. Everyone walks around with their heads down, paying attention only to their cells. Which in this future, their cell seems like an iPad type thing, more than just a cell phone or laptop in its portability. Two of our 4 main characters are Mal and Laura. Mal gets a strange message from his estranged brother and goes to try to find him and help him. On the same day, Laura calls her parents who have been on a trip, only to find out they no longer remember her. Another of the main characters is a teacher in an inner city school who discovers a strange door in the basement of the school. And the other character is a secret agent of some sort who has come to observe and figure out why all of these things are happening. The four of them get captured and put in a strange place together, where they begin to figure out what is going on. They must escape this place and go fight what is causing the problem.
I like that this story is talking about memes, something I'd never heard of until I started blogging, but now know that they've been around for a long time. I love how it talks about people walking around wrapped up in their "cells" as I see more and more people, including myself, spending so much time constantly looking at the cell phones.
However, it was kind of hard to get into the story as I said before. Some of the story was kind of hard to keep up with, kind of confusing on who or what or where we were. So, great story idea, and interesting enough to read, just not my favorite.