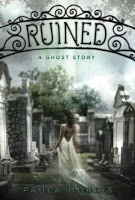 This is a book I got as a strip cover at the bookstore, and I'm not sure why it was sent back. It was really good! I thought it was anyway.
The main character is Rebecca. She has to go live with her aunt in New Orleans when her dad has to travel to China for 6 months. Now Rebecca is a New York girl, and so New Orleans is extremely strange to her. Especially this aunt that she doesn't know that well. She lives in the Garden district, but in probably one of the smallest houses there. And each room of her house is decorated in weird superstitious things, like voodoo, and other countries' similar types of masks and things. She has to go to a private school while she's there, and unfortunately her cousin that she lives with is too young and doesn't go to the same school building, so Rebecca is kind of alone. The girls at this school are clearly divided into different social groups. Many, including those from the neighborhood Rebecca lives in are snooty, rich girls who have known each other forever. Her aunt's house is right across from an old spooky cemetary, and her aunt forbids her from going there right away. Well, Rebecca hears the snobby kids from her school go over there late one night, so she sneaks out to see what is going on, where she meets a girl about her age named Lisette. It turns out though, that Lisette is actually a ghost. She is stuck there haunting certain families until a curse has been satisfied.
Of course, there is the popular boy, Anton, that seems to be interested in Rebecca, but then sometimes seems like he's trying to be one of those guys just playing a trick on a girl like her. His parents don't approve of Rebecca anymore than her aunt approves of him.
So of course, you can probably figure out that somehow Rebecca gets involved in the danger of this curse as she befriends Lisette and learns about her past.
What I loved about this book was all the information and history about New Orleans and Mardi Gras. Hearing all the background on the parades, and the groups that run them was very interesting to me. I also enjoyed reading about the history of New Orleans. I'd heard of the Quadroon balls, but don't remember ever knowing what quadroon meant. Good book.