This will be a combination of Saturday night and last night, as I am way behind on blogging. Which means there are four books to talk about, so here goes.
First, I have always been intrigued by the Titanic disaster (as I know many other people are). And imagine my surprise and excitement to see another young readers novel, by a best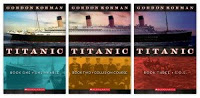 selling author about this event. Titanic is going to be a 3 part series by Gordon Korman, similar to his Island and Kidnapped series I assume, neither of which I've read though. Here is the info on the first in the series: We have Paddy, a stowaway, Sophie and her mother who have been arrested, Juliana and her rich, eccentric father, and Alfie who has a secret that could get him kicked off the ship. It will be interesting to read the stories that Korman weaves here and learn who will survive, if any.
Second: Family by Micol Ostow. I have to admit the cover is what drew me in, and look at

it here, doesn't it make you want to pick it up and read it, or at least see what it is about? It is loosely based on teh Manson family murders in 1969. It is about a teenager who is on the run and finds a boy named Henry who invites her to live with his family. At first it seems great, they share food, chores, everything. Everything includes their bodies and beliefs. And Melinda must agree to it all to belong.
Third is The Sallie House Haunting by Debra Pickman. Ever since this haunting wa
s brought to my attention from my first Ghost Hunters University with Chris Moon at the Mason House Inn in Bentonsport, Iowa, I have wanted to learn more. Especially since it is so close by, in Atchison, Kansas. This is a place that has had a multitude of different types of hauntings, full body apparitions, items moving, sounds, and even physical harm has come to people in the house. The famous scratching of the people who lived there or investigators. From what I know not just anyone can go to this house, it is kept locked and only certain people are allowed to go in with permission from the people who own it and investigate it. I am interested to read this book from the people who have done the most of the research.
Fourth and final is The Uninvited by Steven LaChance. This is another true ghost/hauntin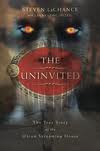 g story. As you can tell I spend some time in the New Age section of the bookstore Saturday night. It is right by the 2nd floor customer service desk. Anyway, this is a home in Union, Missouri. So, another place I might want to visit. But supposedly there are horrific sounds there, people have been possessed, really scary stuff. I've never heard of this before, so I'm very interested to read the story. I guess the author is someone who lived in this house and was driven out by all the stuff going on. Sounds like a spooky read!