Got done with a lot of grading tonight so that I can finish this blog. I've got 5 more books to share. So here we go.
First is Hater by David Moody. This is a grown-up novel. This is one of those covers that grabbed me. It is the title Hater as if in red paint, or blood maybe, splattered on a white background. So, I picked it up to read the back and see what it was about. All of a sudden people become violent, they turn into murderers, even to the point of killing their own loved ones. They call the people doing this haters, hence the title. Basically it is a type of zombie story, in that this is some kind of disorder. In fact, Guillermo Del Toro has bought the rights to this book for a movie, so I am looking forward to seeing that movie come out. In looking up the info on the book, I saw that it was self published first. Glad to see it got a wide release.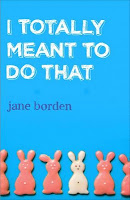 Second is I Totally Meant to Do That by Jane Borden. I believe this is a memoir by the author about growing up in a proper southern home as a debutante, then going away to a boarding school in Virginia, then joining a sorority in college. THEN, she moved to New York, where she found no one cared about all of this stuff. So she had to actually reconcile her past with the new "cool" she was living with. This sounds like it could be very funny! It's on my list to read!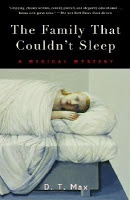 Third is The Family That Couldn't Sleep by D.T. Max. This is actually in the medical section at the bookstore I work at. It is about a family that keeps having members die because they don't get enough sleep and they die of exhaustion. And the reason for these issues is traced to prions. Prions are very scary things. I recently lost an uncle to something like this. And so it is a personal interest to me to read and learn more about this, as well as a curiosity to the science teacher in me.
Fourth is Zombie Autopsies by Steven C. Schlozman. This is another grown-up book, proba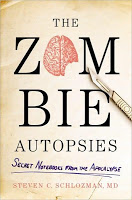 bly even considered Science fiction. Anyway, you can probably see a trend of zombie books on my list to read, but a lot of them are so good, and many even have the little science details that I like so much. It is written as if it is the journal of a neuroscientist, who is actually already infected with the disease, called ataxic neurodegenerative satiety deficiency syndrome (ANSD). So he decides to go to an island to dissect zombies in order to try to find the cure in time to save himself as well as the world. I guess it is printed as if it is actually a handwritten journal.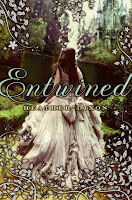 And finally, a teen book called Entwined by Heather Dixon. This is more detailed/teen friendly version of a Grimm's fairy tale called the Worn-Out Dancing Shoes or the Twelve Dancing Princesses. There are 12 daughters in the royal family, and Azalea is the oldest. Their mother dies, and while they are supposed to be in mourning, they find a secret passageway that leads to another world where they can dance all night. But the Keeper of this world has other plans for the girls, evil plans. This sounds so good I can't wait to read it!