Last night I found two really great books! I also have a few that I forgot to talk about in my last Hazards post, and I'm not even sure if I posted after I worked Saturday night either. Now the funny thing is that the two I found last night weren't even in the store. I was looking for some kind of blank book that was for helping a blogger with organizing. Like, for instance, sometimes when I go to do a Waiting On Wednesday post, I can't remember if I've already listed that book. So I want to keep track of a list in a special book. But, couldn't find any such blank book set up for that. Which is really okay, because I am such a weirdo about buying cute little notebooks, that I'm sure I have one in my office/2nd bedroom that I can use. And enough with that, on with the books I discovered last night.
First is Little Blog on the Prairie:
The main character is Gen, and her family goes to a summer camp where they are "living" in the 1890's. She is able to email her friends about the "little hell on the prairie" existence, even though all modern day equipment was taken away. And her friends post it in a blog. I think this book sounds really cute! Can't wait to read it! Not sure if it is in my store, but I will get it soon.
Second is Dead Girl's Blog: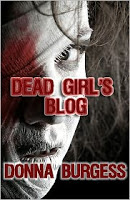 This books is an e-book only as far as I can tell. It's about a very popular girl who gets bitten by a "deader" and so of course becomes a zombie. This is two short stories. And is actually an introduction to a full length book coming out by Donna Burgess, called Diary of a Dead Girl. This actual book will come out in the later half of 2011 supposedly. So, next time I check out the Nook, I'll be reading this right away. And then looking forward to the full length book later this year.
I've decided 3 books per Hazards blog is probably good enough, so I'm only going to go back to one I forgot to do a week ago because I noticed it again last night.
Third is The Lady in the Tower: The Fall of Anne Boleyn by Alison Weir: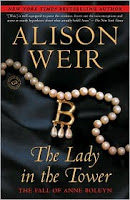 Since I first saw the movie and read the book The Other Boleyn Girl I got extremely interested in that whole story. Then of course there was the tv series The Tudors, really good as well. So this is a book that gives a possible look at what Anne's last days were like. It is based of course on many sources from the Tudor era. And I like that it gives evidence for both her guilt and innocence. It will probably be one I pick up soon. I will probably buy it since as I said, it is something I'm extremely interested in. With nonfiction books like this, I need to take my time reading it, getting all the details. Unlike how with fiction, I often just read through fast to get the story, and then if it is really good I go back and re-read and get the details.