So, I worked at the bookstore again last night, and got to be upstairs in the Kid's Department, my preferred position in the store, but of course, since it was a weeknight, I was basically the whole 2nd floor as well. Found 3 books to share last night.
The first is a book I was able to read in one standing, because it was a children's picture book. But it was soooooo cute! It was called
Little Pink Pup
by Johanna Kerby. It's about a piglet that was the runt of the litter and wasn't getting any milk. So the family's dachshund had just had puppies and they brought the piglet in and it was nursed by the dachshund mother. It was one of the cutest stories I'd ever seen! Of course, anything about a dachshund grabs my attention, but this was just adorable. And the picture at the end of the book of the pig, Pink, and his doggie mommy, Tink. And the difference in size is so funny! I highly recommend this book. You can go here, to the author's blog to read about:
www.johannakerby.com/books.html
.
The 2nd book I found when I was straightening the science fiction section. It is called Ill Wind and it is by Kevin Anderson. I'm not positive, but I feel like I've read a book by this author before. Anyway, it's about an oil spill, and they release a microbe to clean it up. Only soon the microbe spreads and all the cars nearby have no gas in their tanks, and they begin eating any petroleum type of product. I don't know, as a science nerd, it sounds kind of good to me.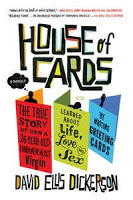 And finally, the 3rd book was on our Biography table. It's called House of Cards by David Ellis Dickerson. It's about an ex-greeting card writer who was a fundamentalist raised, 26 year old virgin. He found it was kind of hard to write some of the cards based on his background, and his religion and outlook on life changed through this experience. It just sounds really interesting. Plus, Hallmark is located here in Kansas City, or Liberty, Missouri to be exact.