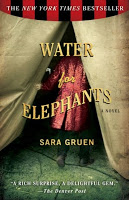 I have wanted to read this book for a long time. Many of the people I work with at the bookstore loved this book. I put it on my list to read, figuring it would be good, but another of those popular books that wouldn't make my favorites list. Boy was I wrong! I finally figured I needed to get it read before the movie comes out, as I prefer to read books before movies, even if that often ruins the movie.
I haven't read a good circus story in a long time, probably not since Geek Love by Katherine Dunn. I loved this story! It starts out with our main character as an older man living in a nursing home. Jacob Jankowski is living there when the circus comes to town and they can see it from the nursing home. As it is getting set up, he drifts off into memories of when he was a part of the circus. How he left vet school because of his parents dying, and ran off and jumped on a train. The train happened to belong to the Benzini Brothers circus. And there were already some people in the train car he jumped on. They helped him get a job in the circus. Once it was found out about him almost being a vet, the big guy, Uncle Al, hired him to take care of the animals. Jacob gets a look at one of the stars of the show, Marlena. He becomes a friend/companion to her and her husband August. August has issues with his temper, and as the time goes by Jacob and Marlena deal with this, even while the two of them begin to fall in love. Uncle Al likes to swoop in on circuses that have gone bust and take what he can. After one spot he finds and purchases an elephant. At first it seems as if the elephant is stupid, but soon Jacob finds that is just that the elephant doesn't understand English commands.
This historical novel ties into prohibition and all the stuff going on with circuses at the time. The end is so good, so so good. I still remember gasping as one thing happened, sitting with my mouth wide open as I read the book in shock. I am so ready to see the movie now. Never mind that it stars Robert Pattinson. 🙂
One other thing that I really love about this book is that the author wrote it during National Novel Writing Month. It just awes me because this book is so well researched and I love the pictures that are from actual circuses from the past with each chapter.