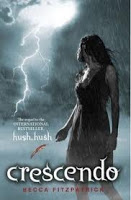 Now, it's been awhile since I read Hush, Hush, the first book in this series. Part of the reason it has been so long is because I read that as an ARC, and then when this came out, I was busy reading for other things, like the Gateway Award. But finally, still with my borrowed Nook, I decided to go ahead and read Crescendo.
I was afraid at first that I was going to have to give a not so great review as the one I gave for Hush Hush. But, soon, I was sucked into the book, to the point where all I could think about was getting back to read and find out what happened next. In fact, I hate that I didn't have time for a 15 minute break at work last night, because I was thinking about the book all night. So, as soon as I got home, I went to bed, but I stayed up reading until I finished it. Now, don't read on if you haven't read Hush Hush, because there will be some spoilers here.
Where we left off, Patch had saved Nora from being sacrificed so a fallen angel could become human. Patch was a fallen angel, but in doing so, he was given a chance to be a guardian angel again, and they assigned him to Nora. In this book, we are led back to Nora's father's death, and how does it connect to what is happening to her right now. You see, Nora comes from a line of Nephilim, which are the human hosts for the fallen angels to use every year for two weeks. All of a sudden, Nora's enemy, Marcie, has become a major part in her life. And for some reason, Patch starts pulling away, and hanging around Marcie. Her best friend Vee has started dating Patch's best friend Rixon, which leads to some awkwardness, as now that Nora has broken up with Patch, Vee is around him all the time. A friend/enemy/neighbor from the past moves back to town, a boy named Scott. His mother and Nora's mother are best friends. It seems Scott got into some trouble back where they had moved. Nora finds that Scott has a scar showing he is a Nephilim. She begins hanging out with him, for many reasons, because her mom wants her to at first, then because she thinks Scott may know something about who or what happened to her father.
I do have to say, the book was good, because I didn't catch on to who the actual bad guy was in this book until right before he made his move. I like when a book keeps me guessing like that. The only bad thing, well, it left off on a big cliffhanger, and now I'm waiting for the next book in the series! I want to try to wait until series are all out sometimes, like I read the whole Moral Instruments series book at one time. And I'm waiting to read the Clockwork Angel pre-series to that until the rest of those books are out. But in this case, I am glad I read it, it was a very good sequel. I also think that angels are the new vampires/werewolves for romances.