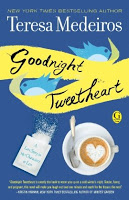 I have to say, this is one of the first chick lit books I have read in a long time that I was dog earing the pages that had things I wanted to talk about when I blogged. The first one I'd literally laughed out loud over and over as I was reading it. I don't think I've ever read a book by Teresa Medeiros before. I seem to only remember her books in the romance section. And believe it or not, I usually don't read those books, preferring my chick lit from the straight fiction section at our store. I am now intrigued enough to read more of her books.
I decided to read this book because it was told in mostly all tweets, you know, like on the social network Twitter. And I was hooked right away.
This is the story of an author who had a bestselling, critically acclaimed first novel, and it trying, but stuck on her 2nd novel. So her agent suggests getting on Twitter like many authors are these days. (Authors on Twitter are my favorite people to follow!) When she first joins, she is immediately tweeted by an English professor on sabbatical. It's fun reading as they get to know each other and flirt (I must find the "tweeting" name for flirting) through Twitter. I understand the flirting part, did a bit of that myself in the past, not that it turned out well for me, but still, it was fun at the time.
Anyway, I didn't see the twist towards the end coming. So I will say you won't be able to expect what is coming, but it is a good twist. And now, onto the things I had to bookmark.
First, as I myself follow Alison Arngrim, who played Nellie Oleson on Little House on the Prairie, I love that one of her tweets was about her. Right after that, she learns about hashtags, and they do one on How2Lose Followers. And I love that they point out insulting any president as being a way to lose followers, as I've unfollowed certain celebs that I didn't want to hear their political rhetoric anymore. I also love that the main character is a fan of Sean Astin, who is one of my childhood crushes!! Even after his turn as a hobbit.
In chapter 5 she is on the treadmill and talks about how she prefers to walk outside, which is also me. I love to walk outside, I could walk all day outside if I had the time. She thinks Heathcliff is a misogynistic asshole, as do I. She talks about Edward Cullen and being Team Jacob. (I'm Team Switzerland myself.) She talks about Stephen King's It, one of my favorite books ever, also the one that made me scared of clowns. She's a Spike woman as opposed to Angel, me too. I LOVED all the Buffy the Vampire Slayer bits. Like her cat is named Buffy the Mouse Slayer. Later on she talks about a New Kids on the Block lunchbox. I love NKOTB.
Later on in the book she starts thinking in Tweets. I do that too. The problem is that by the time I can then get to my twitter, I forget the really creative things I had to say.
So that's just a bit of the things in the book that I enjoyed, but the whole thing was good and I highly recommend it.
Last thought. I'm debating, a lot of bloggers rate the books. 4 out of 5 stars, etc. I have so much trouble rating. I have to really hate something to give it a 1, and usually if I hate something that much I won't finish reading it. So, I end up with lots of 3's and 4's. So, I might start rating, but we'll see.