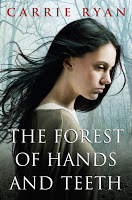 I've been wanting to read these books since the first one came out and I saw the cover of it. Not to mention the title. Doesn't "The Forest of Hands and Teeth" just really intrigue you? It did me. And I put it off, lots of other things to read, no money to buy, etc. But two things prompted me to pick them up this past week and jump in. First, after reading Carrie Ryan's short story in Zombes Vs. Unicorns, I knew I would enjoy her writing. Second, I got to check out the Nook again for 2 weeks, and my goal is to read as many books during this time as I can. In the 4 days I've had it, I've finished 2 and a half books. The half book I'd already started reading before I checked the Nook out, and so finished it with the Nook.
As I posted in my New Year's Resolution blog post, if I read a series all back to back, I am going to blog about both at the same time. So that is my plan with these two books. Now, I will first alert you to the fact that by talking about both, there will be some spoilers. Sorry about that.
1. The Forest of Hands and Teeth.
This is a zombie story. The forest is full of what the town calls the Unconsecrated, or what we would call zombies. Our main character is Mary. Mary's father has disappeared recently, and her mother goes to the fence that surrounds the town each day to see if her husband will return. She refuses to believe that he has become one of the Unconsecrated. Mary's brother Jed is one of the crew that goes out to make sure the fences are safe. When he is gone on one of the trips, Mary lingers with a friend, Harry, instead of getting back to her mother at the fence. Without Mary there to keep her back, Mary's mother goes to the fence, and is bitten. People who are infected get a choice, they may be killed by the Sisters, the women who lead the village, or they may wait until they change, and then be thrown out with the other Unconsecrated. Many choose the latter, in order to be with loved ones. It is assumed that Mary's mother might have seen her father out in the forest, and so she chooses to be sent out after she changes. After this happens, and her mother changes, her brother Jed arrives back in the village. He is not pleased with Mary for letting this happen to their mother, and kicks her out, leaving Mary to have to join the sisterhood. Mary had hoped that Harry would have spoken for her, so they could be married, but he does not. In reality, Mary had actually hoped Harry's brother would speak for her, but he does not either.
All Mary's life her mother had told her about the ocean. No one in the village has seen it, and she is told by most that there is no such thing. Mary longs to get to the ocean that her mother told her about. While Mary is in the sisterhood, the sisters keep the arrival of an outsider quiet. This is because as far as the village knows, there is no one outside their village still alive. When this outsider turns into one of the faster Unconsecrated, the village is thrown into chaos, and Mary, and Harry, and his brother and Mary's best friend, all escape down one path. On their journey, they come to another village, and not only lose friends, but Mary does find her way to the ocean at the end. And that is where the first book leaves off.
2. The Dead-Tossed Waves
In this book, we meet Gabrielle, or Gabry. She is Mary's daughter. They live in the lighthouse near the town of Vista near the Ocean. Mary's job is to go out at each tide and decapitate any Mudo, what the town calls them instead of the Unconsecrated name given by Mary's village. They are washed up, there are zombies under the water, we learn they can be in hibernation when it snows, just laying there waiting for a human to pass through. We also learn that there is something called a Breaker, the fast zombies. What happens is that whenever there are not many Mudos around, and one person gets infected, they become the fast Breaker, and infect a lot of people and are almost impossible to kill. This is why humans will probably never be rid of this zombie problem ever. Gabry must deal with leaving the safety of the life Mary has built for her when she learns that Mary is not really her mother. Then the boy that Gabry is in love with is infected. But fortunately, or not, he becomes immune, he carries the infection, but doesn't ever change. They must leave or the Recruiters will capture him and use him as bait or basically to help them with the Mudo since he is not attacked by them.
Anyway, to make a long review short, these books were good. The first I enjoyed a bit more than the second, and I am eager to read the third which is coming out in March. From I read of the summary, it will continue Gabry's story from another person in her past.