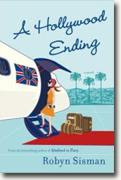 My latest chick lit read. It was okay. It's kind of hard for me to relate to a movie star main character, but I did enjoy the setting of her moving to London. It's always fun to think about moving to a foreign country and falling in love. It was a bargain book, so cheap, so worth the money. Not sure if I will seek ou any more by this author, but would probably read if it was cheap.
The main character is Paige, who goes off to London to try Shakespeare on stage after having some issues with a leading man in her latest movie. There she stays in Ed's hhome that he rents out the main floors of. Ed is a documentary maker, and he is not looking forward to having a spoiled American starlet in his home. He also is trying to sell his company which is on the verge of financial problems.
Of course the two opposites are attracted to each other, and through trials and mishaps they fall in love.