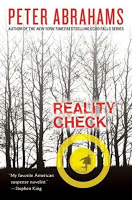 I'm beginning to feel like most of the Gateway nominees have male protagonists. Not sure, I'm going to look through them again to make sure, but right now I feel like all my stories I'm reading are about boys. I've got 10 more to get read this month, so I guess I'd better get going!!
Anyway, I've seen books by this author at my bookstore, but never read any. This one was okay. The main character is a high school junior, boy, who is a football player. His girlfriend is from a wealthy family. And at the end of sophomore year, her father finds her and Cody together, and then when he sees Clea's grade card, with a low grade for her, a B, he decides to send her away to boarding school. Cody decides to break up with Clea instead of trying to have a long distance relationship.
Well, early into the football season, Cody, who has already had scouts talk to him about college, gets an injury that puts him out for the rest of the school year football season. Soon Cody decides to quit school. About the time he makes this decision, there is a news story that Clea has gone missing. Cody goes to the town of her new boarding school to try to help in the search.
Of course once he gets there, at first he doesn't want to tell anyone who he is. He had received a letter from Clea right before he left, and it mentions that she doesn't know who to trust. So Cody is unsure who he should trust. He meets her classmates, including her new boyfriend, as well as teachers and the people who work at the stable where she keeps her horse. He also meets two different cops, and doesn't know which one is giving him the real truth. Cody gets really close to the answer, and then of course, gets himself in trouble as well.
A good mystery, not sure it is award winning material though.