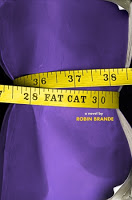 Oh my gosh, I LOVE, LOVE, LOVED this book! Our main character is Fat Cat, or Catherine Locke. Cat is very smart, she is in THE science class, the one that can get you to the National Science competition, as well as scholarships to college. The way this class starts out, is that you pick, without looking, a picture that the teacher, Mr. Fizer, has cut out of a National Geographic at some point in the past. And based on that picture, you must come up with an individual research project to do for the year, that you will then enter in the school science fair at the end of the year. Cat has worked with insects at a lab all summer, and is really hoping to get some kind of picture that can somehow tie in with this so she can build on her summer work. But no, she gets a picture of Homo erectus, early hominins from 1.8 million years ago. She sees the woman in the picture, lean, muscular, tan, and wants to be her. Cat is overweight, and has been for quite awhile. So this leads to her idea of living like these hominins and seeing what it does for her life and health. Such an awesome project this turns out to be! Of course she has to make some exceptions, she can't use technology, they didn't have it, but she will have to use the computer for homework sometimes, and can only ride or drive a car at night, or for safety issues such as distance. So, she walks to school and work. Her diet gets as close as it can, these prehistoric humans ate rotten meat, yuck. She soon learns that not only in this case, but she must make some other exception in order to not get sick. n
Now, Cat has an archenemy, Matt. They used to be best friends, until something happened at a science fair when they were 13. We don't know for sure what happened till later in the book, but it is easy to guess. As Cat does her project, she loses weight, and starts looking and feeling great. And the boys do notice. Even Matt.
As I've said in many other blogs, I really do get into books where I feel a personal bond or connection with the main character. And I do, so much of how she feels is how I've felt in the past, or sadly, how I feel these days. Such a great, great book. Loved it!!