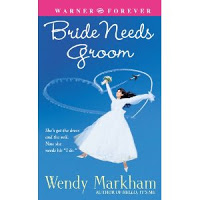 Don't remember when I got this, I know it's mine, because it's stripped cover. My sister returned it to me just recently. I should know that normally mass market romance books are not really the ones I like, but it wasn't too bad. A lot of stereotypes of Italians in it, some fun, some annoying.
Not much to say. Fun, quick read. Not sure if I'll put Wendy Markham on my list of chick lit authors to check for new books by.
Could maybe be the wrong time to be blogging about romantic books as I'm currently feeling a little out of the loop on all this kind of stuff, the chick lit I'm reading right now is pretty funny, so hopefully I'll have a better review for it in a few days.