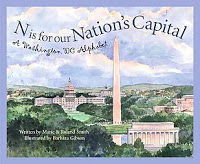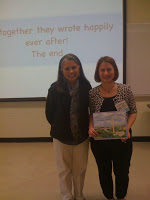 This is a break from my usual book review blogs, yet in a way, I will review an author and her book. First I want to put the link to the webpage that tells about this event:
I have heard about this for the past few years, but not at my school. This is actually more for kids at the elementary grade level, up to about 6th grade. I actually learned about this from the bookstore I work at. It actually seems as if the Park Hill School district goes to this more often than I would guess the NKC school district does, although I could just be unaware since I don't contact our elementary schools much. It takes place during University of Central Missouri's (UCM)spring break, which coincided with NKC's spring break this year. So when an email came on the Missouri Association of School Librarians (MASL) Listserv asking for volunteers, I thought about how I'd like to experience this. As soon as the schedule for this week was up at the bookstore, I emailed to volunteer for the last day of the festival. My confirmation email told me that I would be hosting author Marie Smith for the day.
At first I wasn't sure who my author was. Then one night at the bookstore last week, I was putting away a Roland Smith book, and I realized that Marie was his wife. I met Roland Smith at my school about 8 or 9 years ago when he came to speak at several schools in my district. From that time on I was hooked on his books: Jaguar, Thunder Cave, Zach's Lie, Jack's Run, Cryptid Hunters, etc. Roland and his wife Marie have written several ABC books together: B is for Beaver an Oregon alphabet, Z is for Zookeeper a zoo alphabet, W is for Waves an ocean alphabet, S is for Smithsonian America's Museum Alphabet, E is for Evergreen a Washington State Alphabet, and N is for our Nations's Capital a Washington D.C. Alphabet, the book I purchased and had autographed.
Meeting Marie I was instantly impressed. She was very collected, and knew exactly what she wanted to do. And when I listened to her speak and saw her slides at the first session today, I was even more interested in her. Marie Smith's grandmother was an eskimo. And she comes from a big family, and even has family from Missouri! She loves to bake pies, and fell into writing when her husband asked her to help him write the first alphabet book, B is for Beaver. She was very nice, and interacted with the kids wonderfully.
The last thing I want to say is that I am now inspired to write my own alphabet book. I won't give away what my topic is, but I got tips on how to write it, and already have a lot of my letters figured out. She talked about her publisher, Sleeping Bear Press, and I will try to send them my finished manuscript. I'm hoping I can work and get it done this summer. So I'll be researching and working as I can starting now. She did say the hardest letter was X, and that publishers will completely reject a book if they don't like what you have for that, so I'll be working on finding the perfect word for that.