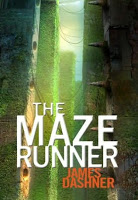 Funny thing about this book, I had ordered an advanced readers copy of this book from a Shelf Awareness email, and set it aside with my other tons of "to-read" books. Forgetting about it, I saw the book sitting on a table in the break room at the bookstore and picked it up to read. I get home, and I go to write it in my notebook where I keep track of what I'm reading, and found the other copy I'd already had. I ended up taking the copy from the break room back to work and keeping it in my locker to read on my breaks. Well, after Wednesday night's break, I wished that I'd brought it home to read because it was getting to a really good point. So, I picked up the copy I'd gotten in the mail and finished the book up yesterday.
Basically our main character is Thomas. He wakes up inside an elevator one morning and can't remember anything but his first name. He is in what they call the Glade. There are a bunch of boys around his age there, and none of them remember anything before they woke up in the elevator the same way. Once a month a new boy shows up. Weekly there are supplies that show up in the elevator. All the boys there work in some way, farming, taking care of animals, cooking, etc. Some boys are Runners. You see, the Glade is surrounded by a giant maze with 8 entrances. The runners go out looking to see if there is a way to escape in the mazes. The mazes change every day, and they map them looking for any clues. The doors to the mazes close every night at dark. In the mazes are creatures called Grievers. If you run into one, they either sting you, or kill you if you're left there over night.
Unusually, the very day after Thomas shows up, a girl is in the elevator with a note about how there will be no one else showing up. First thing that's weird is that it is a girl, there are no girls in the glade. She's in a coma when she gets there. Everyone assumes Thomas must have something to do with her since they arrived so close together. Thomas does feel like he's been there before, and he wants to be a runner as soon as he learns of them, even though runners are very brave, and only boys who have been there for awhile usually get that job.
Soon Thomas learns there are secrets he must remember. Getting stung by the Griever seems to bring memories back, so he has to consider that. Anyway, it's a good story, keeps you interested all the way through. Only issue I have, it leaves off on a kind of cliffhanger, so you know there is going to be a second part. I'm just wondering, can't anyone write a novel that is a stand alone novel for kids anymore? I know some stories are just going to lead on into more than they can fit into what may be a normal size kid's novel, but look at the size of Eragon. I think 3 parts the size of the Maze Runner could all fit in that book, and maybe it could all be read in one book. I get so tired of waiting anymore for books that leave you hanging like this. Not that these books aren't good, I just kind of like to be done and move on to something else when I finish the book. I mean, look at the Stephen King novel I just finished. All done in one, yes – one VERY big book, but still done in one book.
Oh well. Good book.