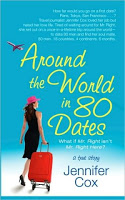 I've decided instead of numbering all of my book reviews, I'll just put the name in the title as I did with this. I don't always blog about all the books I read, partly because I reread books often, like the Twilight series, and Harry Potter whenever a new Harry Potter movie comes out.
Last year about this time I was reading all the weight loss memoirs I could get my hands on in my working on losing weight. Which I've not finished, but am still working on losing weight. I also have read dating/single life memoirs throughout the years as I've worked at Barnes and Noble and seen them in the store. This book happened to be in our clearance bins. While I promised myself I was not going to even look at those bins because I really don't need to buy anymore books, I looked, and am glad I did now. This book was really good. It made me wish I could travel around the world looking for love. It gave me an idea for the perfect job for my sister who loves to travel. And it also made me wish I had friends who would be willing to set me up with a guy in this same type of situation. Yet every guy people usually set me up with is overweight. And as I hate that trait in myself, and am working so hard to change it, I just can't see myself with someone who is overweight.
So, anyway, Jennifer Cox is the author. She lived in London and had just broken up with her latest boyfriend. She decided to try getting people to set her up around the world. And in the spirit of the book Around the World in 80 Days, she planned 80 dates throughout Europe, America, Asia, Austalia, and New Zealand. Lots of interesting dates. In fact, one she turned down was her Viking date, and he's actually one I wish I could hook up. His picture is one of a skinny, nerdy guy, but the way he talked about his archaeology of digging up Vikings was just the way I feel about things I'm passionate about and made me want to meet and date him. I wish there was some way I could contact her and get his info. She ended up meeting who would become her soulmate on date #55. But after discussing it with him, decided to go ahead and finish out her dates. In the end, she quit before the last 4 or 5, knowing she had found what she wanted, and wondering how many soul mates each person has, as one of the last ones she dated came to be really a possibility. But she wanted to give #55 a fair chance, and it seems he is the one. There were a few pages I marked, so let me include parts of those next.
After date #11 she realized that she didn't want to morph or be molded into someone else. She wanted to find someone else like herself, a soul mate she could relate to. And that is me too. I want someone like me that will like me for the way I am.
Date #20 was with the person who won the Dear Juliet letter. There is a movie coming out about a letter written to Juliet, and people actually do write these letters and leave them in Verona, and there are actually volunteers who read and sometimes answer, and even pick a winner. After helping read the letters, this is something Jennifer said:
"As terrible as it sounds, I suspected I would find dating an intensely romantic man a bit claustrophobic and annoying; all that fetching and carrying and fussing around would get on my nerves. Either that or I'd assume they'd done something really bad and were overcompensating. I know, why I'm still single is a mystery to me, too."
That last line is so something I have to say to myself a lot whenever I say something so picky like she said. It made me laugh out loud. But then later, when she's trying to decide if she's being too picky, I have to agree with her there too. If you don't like someone and can't enjoy their company, what other reason do you have for being with them? Like she says, I want a boyfriend who makes me happy, and that I can make happy in return.
Anyway, I really, really recommend this book. It's a great story about love, as well as just a fun look at how single women think. It also clued me into the Burning Man Festival, which several people commented that they can't see me going to that, but I'm open to a lot more stuff than other people think.
And so now, I'll have another book review tomorrow, too tired to write it tonight, and I'm still working on the new Stephen King book.